Published:
October 5, 2022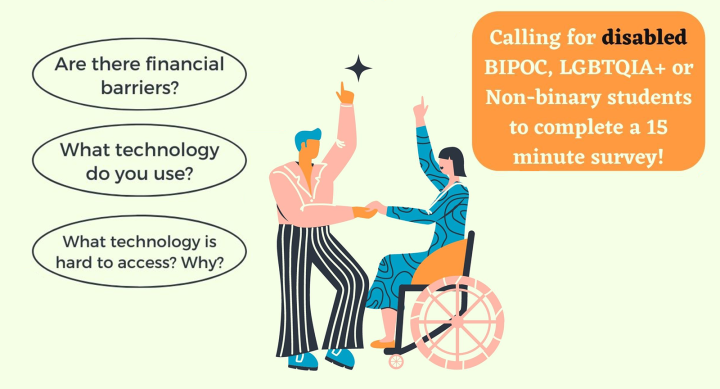 Partnership Principal Investigator: Nick Winges-Yanez, LMSW, Ph.D., The University of Texas at Austin 
Faculty Advisor: Nick Winges-Yanez, LMSW, Ph.D., The University of Texas at Austin 
Study Sponsor: Microsoft Corporation
If you are a UT student with a disability that would like to share their experience, please consider taking our survey:
What is the study about and why are we doing it?
The purpose of the study is to understand what assistive technology disabled students use in academia, why they use that technology, and how they use it. This project strives to understand how important technology is to disabled student's school performance and identify existing barriers that occur for those with another marginalized identity in addition to disability. This study hopes to receive input from often excluded populations such as first-generation students, ESL students, or other marginalized groups. The results of this study will help to inform the Microsoft Corporation about the barriers to accessing their assistive technology, and then adjust their distribution efforts accordingly.
What will happen if you take part in this study?
If you agree to take part in this study, you will be asked to complete an anonymous survey that consists of 14 biographical questions and 15 questions regarding your current use of assistive technology, where you feel improvement can be made, and what boundaries impede your use. The survey will be provided through Qualtrics, a secure and confidential survey system provided by the University of Texas at Austin. The biographical section involves the collection of sensitive information such as race/ethnicity, gender identity, ability, and financial status. The assistive technology section involves your answers to questions such as "What type of add-on software do you use?"
How long will this study take and how many people will be in the study?
Participation in this study will take from 5-25 minutes and include 100 participants.
What risks and discomforts might you experience from being in this study?
There are some risks or discomfort that you might experience from being in this study. They include discomfort at the personal nature of the demographic questions, which the research team has attempted to mitigate by maintaining an "I prefer not to answer" category for each question of special interest.
How could you benefit from this study?
You will receive no direct benefit from participating in this study; however, the results of this study will be used to understand barriers to academic technology use for disabled students, particularly for those with multiple marginalized identities. These results can be used by the Microsoft Corporation to effectively guide their distribution efforts of assistive technology past the barriers identified within this study.
What data will we collect from you?
As part of this study, we will collect demographic, academic, and targeted data from you in the form of a survey consisting of multiple choice and free response questions. Demographic data includes race/ethnicity, gender, sexuality, financial status, veteran status, ability, and employment status. The academic data will consist of classification, residing School or College of study, major, UT EID, and current or previous registration with the Students with Disabilities Services (SSD) office. The targeted data will consist of your responses to the questions about what, why, and how you currently use assistive technology and where your barriers to access are.
How will we protect your information?
We will protect your information by maintaining the anonymity. Your name and any other information that can directly identify you will NOT be stored or collected as part of the project. The survey was designed to be anonymous, and is password protected. Only the principal investigator and the Graduate Research Assistant have access to your answers, and all of the data information collected will be destroyed and anatomized at the conclusion of the study. The only time your contact information or name will be recorded is if you decide to fill out the separate Student Contact Information sheet at the end of this survey to join a focus group. This information will NOT be connected to your anonymous survey responses and will be destroyed upon conclusion of the study.
The data that we will collect about you will not be shared with any other researchers. 
What will happen to the information we collect about you after the study is over?
We will not keep your research data to use for future research or any other purpose. Your name and other information that can directly identify you will not be collected during this survey unless you choose to participate in a focus group and fill out the accompanying Contact Information survey. If so, your name will be kept secure and stored separately from the research data collected as part of the project.
How will we compensate you for being part of the study?
You will not receive any type of payment for your participation.
Your Participation in this Study is Voluntary
It is totally up to you to decide to be in this research study. Participating in this study is voluntary. Your decision to participate will not affect your relationship with The University of Texas at Austin [add as appropriate: and your school, your doctor, or healthcare provider, etc.]. You will not lose any benefits or rights you already had if you decide not to participate. Even if you decide to be part of the study now, you may change your mind and stop at any time. You do not have to answer any questions you do not want to answer. If you decide to withdraw before this study is completed, your survey answers will be saved for one week, allowing you to go back in and finish the survey before being permanently deleted.  
Contact Information for the Study Team and Questions about the Research
If you have any questions about this research, you may contact:  
Nick Winges-Yanez  
Phone: 512-232-0744  
Email: nwingesyanez@utexas.edu  
Or    
Jada Hatcher  
Phone: 254-423-4232  
Email: jadahatcher@utexas.edu
Contact Information for Questions about Your Rights as a Research Participant
If you have questions about your rights as a research participant, or wish to obtain information, ask questions, or discuss any concerns about this study with someone other than the researcher(s), please contact the following: The University of Texas at Austin Institutional Review Board Phone: 512-232-1543 Email: irb@austin.utexas.edu