The Experiences of Texans with Disabilities with COVID-19 Vaccination study collected voluntary data from 2,134 adult Texans with disabilities and their caregivers across the State of Texas. Participants were asked to provide general and disability-specific demographic information, information regarding their COVID-19 vaccination status, and respond to questions regarding barriers and ease of access to the vaccine.
The purpose of the study is to learn about the perceptions and experiences of Texans with disabilities (and, if applicable, their caregivers) related to COVID-19 vaccination, through collaboration with our state-wide partners and community stakeholders. This information will help identify the needs of people with disabilities when getting a COVID-19 vaccine and reasons or barriers that have led to some people with disabilities not getting (or having access to) a COVID-19 vaccine. It can be used to generate solutions for barriers identified, increasing the accessibility of the COVID-19 vaccination for Texans with disabilities.
We gratefully acknowledge our partners, Texas Partners for Inclusive Access (TPIA), for their generous help with facilitating the study. Texas Partners for Inclusive Access is a collaboration among Texans with disabilities, state leaders, and community organizations to ensure Texas communities meet the unique needs of individuals with disabilities and their families. Texas Partners for Inclusive Access provides trustworthy information and resources so that Texans with disabilities have fewer barriers to obtain community-based services and supports.
The vaccine study features the leadership of our graduate students, Weiwen Zeng, Lauren Rosa, and ACT LEND self-advocate and trainee Dana Sayre:
Weiwen Zeng is a doctoral student in the UT Steve Hicks School of Social Work. His interests in disability-related issues are grounded in his practice experience as a clinical social worker in Hong Kong. His current research agenda involves health and mental health trajectories of racial and ethnic minority families of children with autism and other disabilities.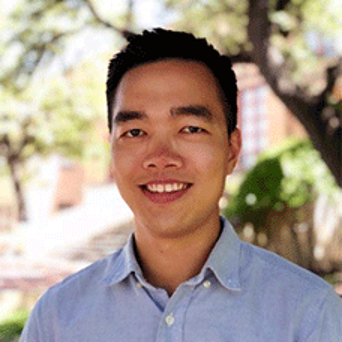 Lauren Rosa is an MSSW student in the UT Steve Hicks School of Social Work. Lauren is a graduate research assistant with the Institute for Organizational Excellence that works with state agencies to conduct employee satisfaction surveys and currently interns with Communities in Schools (CIS) of Central Texas. She is in the clinical track and hopes to start a private practice after graduation.
Dana Sayre (They/Them/Theirs) is an artist, scholar-activist, and community organizer. Dana operates a drama therapy private practice, and partners with Thriving Autistic, Chronically Queer - Austin, Autism Society of Texas, and the Greenleaf Neurodiversity Community Center. They participated in the 2021-2022 cohort of the ACT LEND program via UT Austin as a self-advocate. Dana is also the 2021-2023 Chair of the Cultural Humility, Equity, and Diversity Committee of the North American Drama Therapy Association.
Download Infographic Files