The Texas Sibling Network strengthens and builds skills through education, community, and advocacy to support all family members. 
PLEASE NOTE: This program is no longer active.
The Texas Sibling Network (TSN) creates a community for adult siblings of people with disabilities by adult siblings of people with disabilities. The Network provides support, resources, leadership, and advocacy skill building opportunities for siblings. It is recognized that siblings have very different experiences and visions and the aim is to provide a community to welcome and honor those experiences. 
The Texas Sibling Network is housed at Texas Center for Disability Studies (TCDS) as the state chapter of the national Sibling Leadership Network, There are currently chapters in Austin, Houston, Lubbock, DFW, and Permian Basin with plans to expand and create multiple chapters across Texas to represent every community. The long-term vision is local chapters throughout Texas, on college and university campuses, to provide a hub of information for siblings. 
Partners currently include Texas Advocates and are working with several other disability organizations in order to be as inclusive, sustainable, and effective as possible. 
Connect with us!
The following workshops for siblings are available:
Sibshops – Workshops for siblings 8-12.
Future is Now – Future planning and how to start the process
Person-Centered Thinking – Tips and skills for putting your sibling at the center of planning
How to Discuss Sexuality – How to talk about sexuality with your sibling in an effective way
Healthy Relationships – Workshops for your sibling to learn sexuality education basics (adults only)
Technology Supports – Different technology supports available for your sibling (with demo)
ReDiscovery – Discussing disaster preparedness and long-term recovery supports for people with disabilities and those who support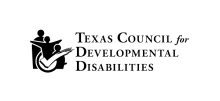 Financial support for the Texas Sibling Network is provided by Texas Council for Developmental Disabilities with federal funds* made available by the United States Department of Health and Human Services, Administration on Intellectual and Developmental Disabilities. *$83,186, 76% DD funds; $23,594, 24% non-federal resources.